ADMIRAL SIR CLOUDESLEY SHOVELL (Don't Hear It.... Fear It!) LP + 7"/CD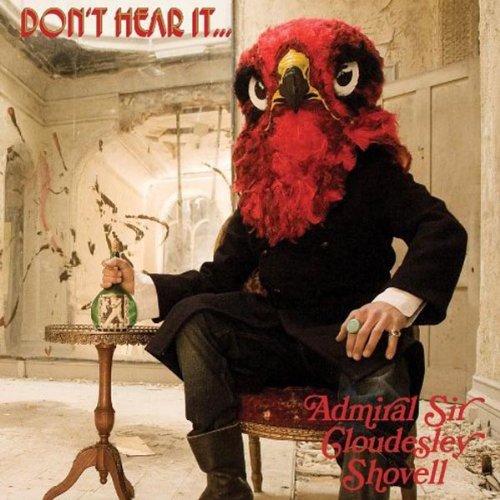 For someone like me who loves raw and unbridled vintage heavy rock, 'Don't Hear It.... Fear It!' is an easy bait. Hailing from the U.K., ADMIRAL SIR CLOUDESLEY SHOVELL rocks out with their cocks out (a total of 3) and pay tribute to some of the heaviest bands from the 1970's such as Black Sabbath (what else), Sir Lord Baltimore, Buffalo and Mountain. Although at the very beginning of the opening track 'Mark Of The Beast' one has the impression that this is an homage to The Pretty Things' 1968 album 'S.F. Sorrow', it soon becomes apparent with the first loud riff that ADMIRAL SIR CLOUDESLEY SHOVELL have nothing to do with 1960's psychedelic rock. Instead, they believe in the power of rock 'n' roll and make no room for compromises on the issues of loudness and wildness.
Of course, they are not the new MC5 or Stooges, but they managed to conserve a bit of their energy in order to combine it with plenty of heavy riffs and rough vocals. It sometimes happens that ADMIRAL SIR CLOUDESLEY SHOVELL make shameless use of song parts from Black Sabbath and Buffalo - but that's how it goes in rock 'n' roll business. Not always but more and more often. Nevertheless this is no cause for alarm. And what these three cats lack in originality, they make up for in unresisted joy of playing. A couple of the included nine tracks are over 6 minutes and sometimes I have the impression that there are just too many riffs (or ideas) in one song. In doing this, the band reveals its weakness and this is a keen sense for catchy hooks. Here ADMIRAL SIR CLOUDESLEY SHOVELL need to learn a few things from their musical heroes.
But without question the biggest disappointment for me is the pointless cover version of Buffalo's 'Bean Stew'. It's one of the best cuts on Buffalo's 1972 debut 'Dead Forever', but ADMIRAL SIR CLOUDESLEY SHOVELL have managed to mutilate it. Maybe that is why it is only a hidden track at the end of the album. But apart from those two criticisms, 'Don't Hear It.... Fear It!' is a very entertaining affair and it is no coincidence that old English blues master Tony McPhee (of the legendary Groundhogs) has been involved here. So, if you dig the abovementioned bands then you should give ADMIRAL SIR CLOUDESLEY SHOVELL a chance.
(KK)
www.myspace.com/admiralsircloudsleyshovell