ADMIRAL BROWNING (Battle Stations) CD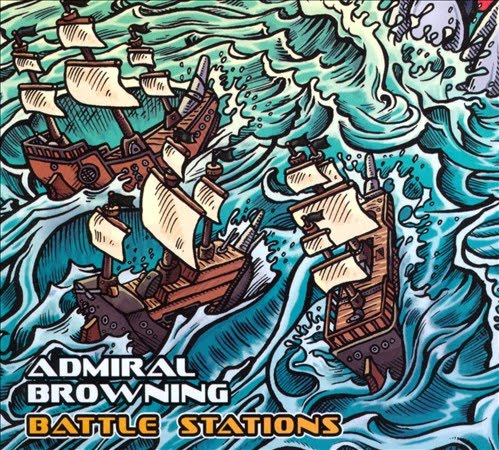 ADMIRAL BROWING come from Maryland, USA, and this is already a sufficient reason for me to take a closer look at them. I did this for the first time in 2009, when the band had sent me a copy of their new CD-EP 'Magic Elixir'. Even then it was clear that ADMIRAL BROWNING had a very individual sound. Of course, it was real heavy but they did not limit themselves to one formula exactly as in the case of all the other fantastic bands from Maryland. So, if you were looking for stereotypical and stale doom metal, then ADMIRAL BROWNING won't satisfy your needs. I, however, was greatly pleased with 'Magic Elixir' and therefore I was looking forward to their next release. Fortunately, I only had to wait two years until 'Battle Stations' has been released in 2011.
The first thing that immediately strikes the eye is the gorgeous cover artwork by Skillit. It is just as extraordinary as the music and you have to see it for yourself. Speaking of the music - in the meantime ADMIRAL BROWNING have put greater emphasis on the progressive elements in their music, or more precisely they have transformed into a mind-blowning progressive metal group. As before, there is no vocalist and that is good as it is. There is no room for vocals in the songs, because the instruments (guitar, bass, drums) in itself tell the whole story. The musicianship is on a high level which is driven by a jazz-infected looseness.
Here and there, a couple of heavy riffs flash up before disappearing into restless and quirky song structures. 'Battle Stations' pounds, drives, and just does not let up. It goes without saying that I need some time until I grasped the music. But it was worth it! A further positive aspect of this album is its diversity. 'One Lucky Canary' manages to surprise me with acoustic guitars and catchy melodies while 'Interlude' seems to be influenced by Arabian music. As you can see, there is a lot to discover here and it would take days to describe every detail. 'Battle Stations' has been recorded and mixed by Chris Kozlowski at Polar Bear Lair, who is not only a household name in the Maryland community of heavy music but also my favorite producer. Here, too, he has done a marvellous job. Together with Chowder, ADMIRAL BROWNING are the hallmark of heavy progressive rock made in Maryland. Conclusion: Great band - great album!
(KK)