ABRAMIS BRAMA (Smakar Söndag) CD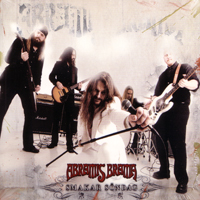 ABRAMIS BRAMA has been around for almost fourteen years, but it seems as if this Swedish band is still an insider tip. I don't know why this is so, but it's definitely not because of the music. 'Smakar Söndag' is the fifth studio album, released in 2009 via Transubstans Records, and has the same class as the previous ones. Here again, the band delivers their heavy 70's riff-oriented hardrock, peppered with quotes from bands as Captain Beyond, Mountain, Led Zeppelin and so forth. As usual, the regular suspects. Not to forget the legendary Swedish heavy rock band November, because ABRAMIS BRAMA also sing all songs in their native language. Since the last studio album 'Rubicon', there have been changes in the lineup. The first drummer Fredrik Jansson joined Witchcraft and has been replaced by Trisse, former member of Grand Magus. By the way, Fredrik Jansson is also the bassist of Count Raven. It's a small world, isn't it? To reinforce guitarist Peo Andersson, the band has hired Rob Johansson, who normally is playing guitar for Swedish southern hardrock band Backdraft. Well, ok, I hope it wasn't too confusing.
Back to the album. There's enough compositional variety here to keep up interest: the tracks alternate between thunderous classic hardrock or calmer songs. Sometimes you will find both in one track. So here are some highlights. 'Kylan Kommer Inifran' is a perfect album opener packed with strong grooves, an effective change of pace and more than a handful of great riffs. The same applies to 'Langsamt (Ett Troll I Min Hjörna)', that reminds me quite a bit to early Grand Funk Railroad. Check out the sizzling and smoking guitar work in ' Öga för öga', one of the heaviest songs here. Tony Iommi would have enjoyed it. 'Vägskäl' is very laid back and almost jazzy containing a solid bass line and shredding fret work which veers from straight hardrock to a subdued blues-like feel. On the other hand, there's are song like 'N.E.J.' or 'Sista Morgonljuset' which never fully click on me. Especially 'N.E.J.' is too hippe-like for my taste. But most of the songs are damn good so I don't want to grumble. Let's hope that this album encourages all fans of classic 70's hardrock to open their wallets, because ABRAMIS BRAMA is very, very good at what they do.
(KK)