A THOUSAND KNIVES OF FIRE (The Last Train To Scornsville) CD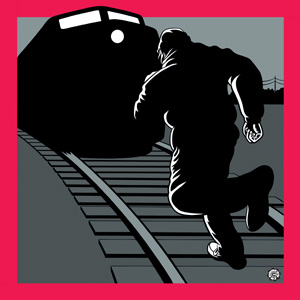 It's a long time since we heard something new from New Jersey's Halfway To Gone. One of the reasons for that break could be ATKOF, because behind this euphoniously name hide the two HTG members Lee Stuart (guitar/vocals) and Dan Gollin (drums), who is sharing the place behind the skins with Bob Pantella (Raging Slab/Monster Magnet). By the way, Lee Stuart and Bob Pantella are the originators of this group. Even if this is a disc, the album is divided into side 1 and side 2, what is not only a nice joke, but it's really reasonable. The first side equates to what one would expect from this band, namely top-notch heavy rock 'n' roll with a strong southern rock influence. 'Hey Buddy' convinced me with a heavy cool groove and in 'She's Yours'it seems that Pete Wells (Buffalo/Rose Tattoo) is raised from the dead and visited the band in the studio. Lee Stuart isn't the best singer under the sun, but his cool and snotty vocals fit perfectly to this sound as in the relaxed 'Nothing In Life's For Free'.
If necessary the bottleneck will be unpacked to refine some of the songs with slide guitar. Especially when Lee Stuart is playing the harmonica and the blues is flowing out of the speakers I love this band as for example in 'Yeah Part 1', which reminds me also to Karma To Burn. The so-called side 2 is much harder to digest, because there ATKOF show their filthy, doom-drenched side and the title-song is overwhelming the listener with heavy Black Sabbathian grooves. After that the band completely renounces the vocals and start to focus their attention on merciless doom-driven riffing and feedback noise. This second side is making the album more interesting, so that you can't describe it as the next typical heavy southern rock 'n' roll album. The brilliant coverartwork of Mark Dancey is also an evidence for the macabre humor of ATKOF, which become manisfest in some of their songs. At least, an earthy and fat production is making this album complete and so we have the next really good release from Small Stone Records in 2008.
(KK)