March 2012 - VANCE BOCKIS
I've always wanted to do an interview with Vance Bockis who was, inter alia, the original singer for The Obsessed. Not only because I am a huge fan of the band's early years, but also because of the fact that Vance Bockis is a colourful personality with an exciting musical career. Before The Obsessed, he was for a short time in Pentagram, followed by Overlord. In the early 1980's he was the co-founder of the legendary 9353 which went more in a weird post-punk/new wave direction. Last but not least, there is The Factory where he acts out his passion for rock 'n' roll. In that regard it is certainly no mistake to mention that The Factory is active again and is working on a new album. Overall, Vance Bockis can look back on more than 30 years of musical experience and a turbulent career, where it was more important for him to express himself artistically instead of making money come hell or high water. Due to his complex history as a musician, there were plenty of issues for an interview. We begin with his first favourite bands, work our way into the time with Pentagram, Overlord, The Obsessed, 9353 and, of course, The Factory. Here we go!
Hello Vance, I am pleased that you are interested to answer my questions. During my research, I noticed again how interesting and complex your musical career was during the 1980's. There were many stations, or more precisely bands, where you have been in the line-up. Before we talk about that I would like to know how did you come to rock 'n' roll? Which bands/musicians have fascinated you in your childhood and where did you grow up?
I was born in Washington D.C., it is what I have always called home. I started listening to music when it was on the A.M. frequency. I really loved sounds. The first song that made an impression was 'The Letter' by the Box Tops, after that I jumped into buying all kinds of 45 rpms, all kinds of shit. The first band I went ape shit over was Alice Cooper, my first LP was 'Killer', then 'Love it to Death', 'Schools Out' and 'Billion Dollar Babies'. I use to watch all of the music shows Don Kirshner's rock concert, Midnight Special, and In Concert, that exposed me to a bunch of cool shit. I first saw the New York Dolls on Midnight Special, I was a changed boy. One of the biggest influences on me wanting to get into music was Alice Cooper and Thin Lizzy, Phil Lynott was one of the coolest rockers of all time, as far as I'm concerned.
You're known as singer, but you've also played bass in Pentagram, Overlord and 9353. Before we focus on Pentagram, let's talk about Overlord. To me it's another mysterious band associated with Pentagram and The Obsessed due to drummer Joe Hasselvander and guitarist Norman Lawson. Could you tell me more about Overlord?
Overlord came to be right after the 1979 Pentagram break up. It was Joe Hasslevander, Richard Keuht, myself, Norman Lawson, and a singer named Ricky Tignor. Joe, Richard and I were straight out of Pentagram, Norman came from Link Wray and Ricky from White Heat. We all loved the same kinda music so we played a bunch of cool covers, Black Sabbath, Judas Priest, Motorhead, and a bunch of other heavy shit, and we did do a few originals which one was titled 'Hellion', the song that spawned the band later on.
In 1979 you have been hired by Pentagram who where opening for Judas Priest at Louie's Rock City. I can imagine that this was a mind-boggling experience for you. How did this come about? Did you know Bobby Liebling already before?
I had met Bobby through a mutual friend whom I was in a band with called Bitch, Norman Lawson was also in Bitch, and the mutual friends name was Robin Webb (R.I.P). He introduced me to Bobby in 1977. Bobby asked me if I wanted to play bass with Pentagram after Marty Swaney left. I was 16 at the time and I remember being nervous as hell following after Marty, he was one of the heaviest bass players I had ever seen at that time. I had to do it though, an oppurtunity does not come along that often if ever for a 16 year old. I rehearsed and gave it my best, I had a wonderful teacher in Joe Hasselvander. When we opened for Judas Priest it was so surreal, it was a very memorable night. I had been catapulted into a world of rock, pussy and mayhem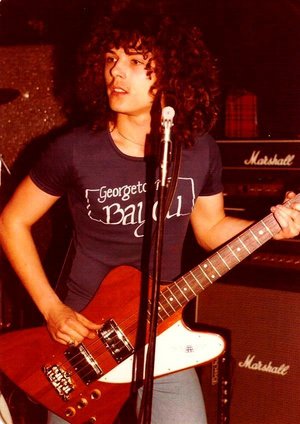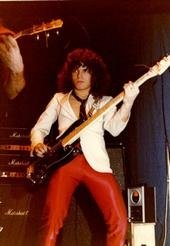 How long have you been in the line-up of Pentagram and have you witnessed the end of the band in the very late 1970's?
My time in Pentagram was not long, and I think it was at the end of that cycle of Pentagram, so I guess I did witness the end of Pentagram in the 70's.
When and where did you first met Scott 'Wino' Weinrich and The Obsessed?
I was introduced to Wino through a guy named Harry that worked at Venemans Music in Rockville. At the time I was singing for a cover band called Darius and Harry had seen us and came up to me after a show and told me about a band that was looking for a singer, the band was all original and unique and heavy - he thought I would be perfect for it. I called Wino and talked to him and he told me he was looking for a singer that was like Iggy Pop, Ozzy Osbourne and Jim Morrison. I thought that was cool, so we arranged for a rehearsal. After the first rehearsal I moved into their house in Aspen Hill and we started working on the tunes.
If I am not mistaken, you've been in The Obsessed from 1980 - 1983 together with bassist Mark Laue, drummer Dave Flood and, of course, Wino. Please, correct me if I'm wrong.
You are correct.
I've seen some vintage footage from The Obsessed, which originate from that period of time. For my part, I think that you were an excellent, wild and unpredictable frontman in the tradition of Iggy Pop and Stiv Bators. Would you agree when I say that bands such as Iggy And The Stooges, Dead Boys or New York Dolls had an influence on you and The Obsessed?
More of an influence on me, than the guys in The Obsessed. Though, they loved all those bands.
With regard to songs as, for example, 'Lifer City', 'Feelingz', 'Kill Ugly Naked', 'Your Mama Sucks Prunes' or 'Iron & Stone', how much did you participate in the song writing process?
I had no part in writing any of the music of The Obsessed.
Unfortunately there are only bootlegs which include the demo versions of the old material of The Obsessed. What do you think about these bootlegs and would you welcome an official release of the old stuff?
I think they're great and it would be totally up to Wino if they were to be released.
Where and how did you record all these tunes?
In an 8-track studio somewhere in Maryland.
In retrospect, what do you think about that period and why did you withdraw from the band?
It was a very important period, simply for the fact that The Obsessed was responsible for bringing Punk and Metal together as far as the fans were concerned. There were some gigs that got a bit rowdy, such as the gig we had opening up for the Bad Brains. It was at the 9:30 Club and the club was filled with skinheads, chanting "haircut, haircut, haircut." Before the gig I had a ceramic sculpture I had done of a skinhead in art class and I put it up on a stool on stage. And right before the opening chord of the first song, I came up with a baseball bat and smashed it to pieces. Then I told them they were really original with their bald heads, I couldn't tell any of them apart. And they could fuck off if they wanted. They loved us. I left the band because Wino wanted to go more metal and lean towards that and I was considered just too punk for the band. So we had artistic differences.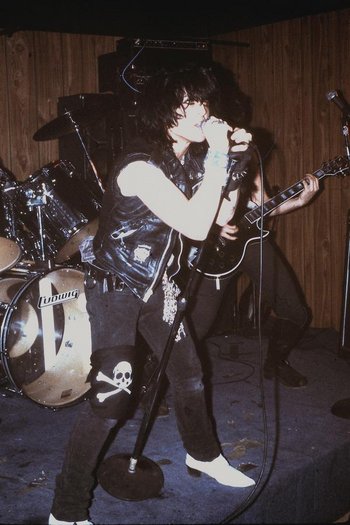 Ok, let's close this chapter on The Obsessed and let's talk about another band where you have been involved: Hellion. To be honest, I think it's a pretty confusing story. Could you please bring some light on that issue? When did you join Hellion and how long did you stay there?
I never was in Hellion, but I was part of writing a song called 'Hellion', with Overlord. And later, after we broke up, some guys started a band called Hellion. Norman was one of them.
It appears as if there was a close friendship between Hellion, Death Row and The Obsessed in the early 1980's. What was the situation? Did you spent a lot of time together?
I hung out a lot with Joe Hasselvander and I hung out some with Norman and Wino and through that, we all had friends that knew one another because of the music.
Now on to 9353...unlike the aformentioned bands, 9353 had nothing to do with heavy rock or rock 'n' roll. Although they were attached to the D.C. hardcore punk scene, they had a very individual sound that had more in common with new wave and post-punk. When did you join the band and what was your intention? Have you been bored by rock 'n' roll, or did you just want to do something different?
I started the band with Jason Carmer from Double O. We met at my house one day when Scream was rehearsing in my basement. We all grew up in the same area. Jason and I were big fans of The Stranglers and we started playing together and coming up with music. We decided we needed to get a singer and he knew a guy named Bruce Merkel - now known as Bruce Miles Hellington. And the rest was history, we recorded quite a few records, we sold out several shows at 930 and had a massive cult following. I wasn't bored by rock and roll, I don't like to catagorize, if I like it, I like it.
Another cornerstone in your career is The Factory. What were the beginnings of the band?
Factory started while I was taking a break from 9353. My first love of music is rock and roll, simple, no punches. I got together with Norman Lawson, Stuart Rose and Tim Caruba and we started a rock and roll band. We did half originals and half covers. The covers consisted of Alice Cooper, Iggy Pop, David Bowie, Dead Boys and The New York Dolls. The band has gone through several different line-ups. The Factory is actually what I am most comfortable with and what represents me.
We went all the way up to early 90's - by that time we were managed by Cellar Door, had opened up for The Ramones, Iggy Pop, Ian Hunter, Ron Wood and Bo Didley, Wendy O. Williams of the Plasmatics and several other national acts. CBS Records invited us up to New York for a showcase and to talk a record deal. I was in the throes of a severe heroin addiction and it totally jeopardized everything. CBS decided to hold off on us and after that the band parted.
At first I thought the band broke up, but you played some shows last year. So, what is the current status of The Factory and are there plans for a new album?
After years of The Factory being history, I had finally gotten clean and to my surprise was contacted by Rick Ballard of Acetate Records, a big fan of The Factory. He found a video of us on YouTube and contacted the person who posted it, who happened to be our bass player, Scott Sartorius. He wanted to know if we were interested in releasing any of our material and signing to Acetate Records. We gathered all of the master tapes that we could find, cleaned them up and sent them out to Los Angeles. Rick put together a CD and put it out on his label, and signed us to a seven year contract. On March 27th we're going into the studio to start recording our new material for a new release, which we hope to have out by fall.
We have all the original members except for the drummer, our drummer now is Tommy Carr formerly of Black Market Baby. Robbie Limon, one of our guitar players is a very busy with his work in the theater, so a lot of times we've had to call on Ronnie Younkins of Kix. The first shows we did when we came back, Ronnie played with us most of the time. Also another guitar player, Rich Moxley alternates with Norman Lawson. After we release the new CD, we're looking to line up a tour, starting out with some shows out west, hopefully supporting other Acetate acts like Prima Donna and Rhino Bucket and the Hangmen.
You've been around for a very long time and you've played in numerous bands over the years. What are your highlights and lowlights of the past 35 years? Is there anything you regret?
I've had a lot of highlights, a lot of low lights, and no regrets.
What are you doing today? Do you have still other interests beside the music?
Music is my primary interest and I like to travel. I would love to go on tour, particularly a European tour.
Before we finish our interview I would like to know what are your future plans for 2012?
Putting out the new CD and following up with a tour.
We have come to the end of this block of questions, Vance. I would like to thank you for your time and interest! I really appreciate it! Is there anything you would like to add?
Thanks for your interest in my craft!
(KK)