Ohio's LO-PAN is one of the best tasting fruits on the rapidly growing Small Stone Records tree. While it seems as if more and more hard rock bands are trying to replicate the sound of the 1970's, LO-PAN shows that it can be done differently. There's a timeless quality to the songs and sounds on their two albums. This is backed up by a great musical talent and a good instinct for irresistible hooklines. Their songs are tough yet emotionally charged, drenched in both angst and beauty - never black, never white - a burning passion that always pushes their sound further and forward. This is affirmed not only by LO-PAN's energetic, sweat-ridden live shows but also by two outstanding albums named 'Sasquanaut' and 'Salvador'.
But not enough with that, LO-PAN is also a hard-working band. They are constantly touring in the USA to get their massive sonic brew across. For this reason, I was very pleased that these four guys haven taken the time to answer my questions, because LO-PAN's next tour will kick off in early April 2012. And while I write these lines the band is about to play their last two gigs of their current tour. That's what I call an extensive amount of work, but I feel strongly that they have lots of fun at work. So, let's take a look at the current state of play. Well, before I forget: There's also a new video out now for 'Chichen Itza' (taken from the recent album 'Salvador'). You can watch it here.
LO-PAN has been very active last year. At first, Small Stone Records has released your second album 'Salvador' and then you went twice on tour in the USA. What is your personal balance of 2011? Do you think LO-PAN is on the right track?
All: Can we borrow some money $$$????
JBartz: I am not sure we have ever paid attention to a track or a path. We really like to travel and play music a lot. It is a great experience to meet new people and see new places every night. This does however come with a lot sacrifice. We are constantly balancing our finances, other means of employment, and our personal relationships. So it has been a hard path we chose but there is no reward without some risks.
Your next tour kicks off at the beginning of April 2012. Are there any brandnew songs in the setlist?
All: Yes we have 6 new songs we wrote over this past winter.
Jeff: We typically try not to tour in the winter because it just compounds all the problems of touring and makes things generally miserable. So for the last few months we have been writing pretty steadily and we currently have around 7 new songs finished. We will be playing 6 of those scattered across 2 different set lists on this tour. 3 new songs per set list - mixed with songs from 'Sasquanaut' and 'Salvador'.
What are your plans for 2012? Do you work on your third album and, if so, what can we expect?
Brian: We have a head start on our next album, being six songs or so into it we should have our choice of songs to put on our next record. I guess if you should expect anything of our new material it would be that these new songs represent our collective best effort while being unmistakably Lo-Pan songs
When will you come over to Europe? Are there any concrete plans?
All: Can we borrow some money $$$ ????
JBartz: Actually we get this question a lot. It seems we have sparked some good interest in Europe. We have no concrete plans as of now. We would really like to do some touring through there soon. However it is not cheap to travel across the pond. If anyone has suggestions of bands or booking agents that we should check into or package up with please send them our way.
What have you done before LO-PAN? I'm pretty sure that you've played in other bands before. Please tell me more about your musicial career.
All: We come from a diverse background of musical interests. Ranging from video game metal to blues to indie rock.
Skot: Jesse, Brian, and I have been playing in various bands from Columbus, Ohio for quite some time. Jesse and I specifically have been doing local shows together since the late 90's / early 2000's. Jeff fronted bands from Parkersburg, West Virginia and we would periodically trade shows with one another. Jesse and I quickly became acquainted with Jeff's tremendous vocal stylings. I suppose it was only a matter of time before destiny stepped in and corralled us into where we stand today. As far as where we all came from musically....... we'll just say it was different.
When did it become clear that you wanted to play in a rock 'n' roll/hard rock band?
All: December 20, 1995.
Brian: I suppose for me it was at a very young age, somewhere around age 10-12. When I was growing up my extended family included a guy that toured with the Charlie Daniels Band for five years. It left open the path that I am on to this day. With out that, who knows what direction I would be going.
As far as I remember, you have been showered with praise for 'Salvador'. Of course, that is a very good thing and it must also be really motivating. On the other hand, I can well imagine that it builds up pressure. Do you agree and how do you see that situation?
All: Are you hitting on us??? "Last time I gave a shit, I got fucked" - TheTourrettesGuy.tv
Jeff: The response to 'Salvador' has been amazing. Writers have been very kind. People that we have encountered on the road and even the guys/girls in the bands that we play with have been very complimentary. It's very nice when people show recognition to the time and sacrifices you give. That said, I can honestly say that Lo-Pan does not feel any pressure to deliver or go a certain direction. Each member of this band has been in other bands for years and are well aware of the mistakes that most groups make with regard to doing things just because it's what's expected. Lots of bands say "we write for us, nothing else." But with absolute honesty, I can tell you that Lo-Pan truly writes for the four members of the band. If others like what we come up with - thats wonderful...thank you. But if they don't, thats just how it is.
In my opinion there has been a slight change of direction on 'Salvador'. The songs are less playful than on 'Sasquanaut' and the production is a bit more polished. Do you agree with that and where do you see the differences between both albums?
All: Differences = 3 years of touring, different songs, recorded in drastically different environments, growing, maturing as a band, and Batman.
Skot: 'Salvador' was the first record we wrote entirely with Jeff. A lot of the songs on 'Sasquanaut' were written with another singer therefore the song writing is inherently different. Of course a couple of years touring between records also helped us understand who are were and where we are coming from musically. 'Salvador' was recorded at an amazing studio (Mad Oak Studios) by an amazing engineer (Benny Grotto). A "polished" product is the direct result.
One of my favourite tracks on 'Salvador' is 'Struck Match'. What is it about?
All: It is a song about wasted potential.
Jeff: I don't really want to pour my soul out overtly regarding the inspirations for the lyrics, but suffice to say it's about not using the tools you have at your disposal to their utmost. There have been several times in my life I have felt that I was wasting time on the frivolous, and not pouring my heart into what truly matters to me for whatever reason. The lyrics of this song are very personal to me and every time we play this song I relive those times.
I think LO-PAN is a perfect fit for Small Stone Records. How come, that you didn't release your debut on Scott's record label right from the beginning?
All: Because we were not signed to or in contact with Small Stone at that time.
JBartz: We didn't start talking to Small Stone until January 2010. I think that the timing was just wright for us to start working with them then. We had been playing around the Midwest for a while "paying our dues" and I don't think we were ready until the pieces kind of came together. "Sometimes you just can't force things".
The cover artwork of 'Salvador' is unusual and pretty cool for my taste. Who had the idea for that and why did you chose a dolly? Is there a deeper meaning?
All: There is no deeper meaning. It is a reference to our touring life style. We are stupid!!!
JBartz: That particular equipment dolly has been with us through several years of touring around the USA. We named it Salvador shortly after we got it and way before we decided to either name the album that or feature it on the cover. One day on tour we took it down to ocean and tried to taking some romantic/spiritual/epic type pictures of it on the beach. Pretty funny to see the families starring at some band dudes dragging a dolly across the sand. Again I think it kind of gives a little insight to our sense of humor. We now have a new one named Lama!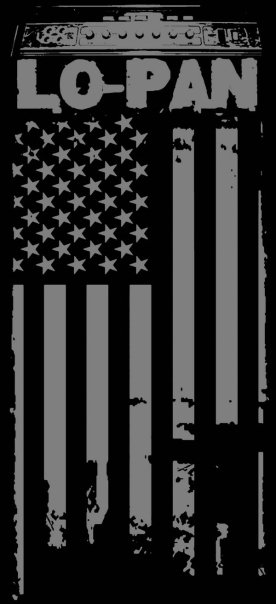 I've seen a live shot of LO-PAN where the bass box is covered with the Stars and Stripes. It immediately brought to mind the MC5, who did this too. Is it a direct reference to one of the best rock 'n' roll bands in the world or what is your intention? Is it a political statement?
All: "Old Glory" makes Skot's bass sound better.
Skot: No reference to MC5. I use Vintage American amps, cabinets, and basses all of which surpass me in age. The flag on my cabinet is also very old, tattered, and faded. I will leave any political statements up to individual interpretation.
Contrary to most vocalist, Jeff Martin doesn't stand at front of the stage, but more in the background. What is the reason for that?
All: It eliminates amp noise, drumbs, and cymbals in the mic. We are loud.
Jeff: For those who have seen us in a live setting - you will know that Lo-Pan has a considerable stage volume. We are very concerned with tone for the guitars so volume is necessary. When we first started out - we found that many times the amps were bleeding into the vocal mic so much that it was not possible to hear Jeff in the PA. Also having Jesse's drums beside or behind the cabinets was not allowing him to hear everything he needed to hear. The monitors were largely ineffective in smaller clubs with smaller PA systems.
One day we played a club with a larger stage and a drum riser. We came up with the idea of having Jeff stand on the riser and everyone else setting up stage front. It worked very well. Everyone could hear and it had the added benefit of giving Jeff a break from the hot front stage lights that he despises. We have done it this way ever since and it definitely works for us as a band. Some sound engineers don't care for it because it means they have to move things around a bit...but we find that it's all for the best.
Ok, that's it for this time. Thanks a lot for your time and patience! I wish you all the best for your upcoming tour!
All: Fo' Shizzzzzle.
(KK)