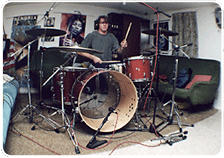 Last year, I was really surprised while listening to the promo of the new OJM album "The Light Album". Their last release "Heavy", a very solid Fuzzrock album with influences that ranges from early Sabbath to the Stooges, was promising but nothing special among the mass of same-sounding bands. But it seems as if this days are over, and "The Light Album" is a refreshing garage rock album, with various 60's influences and so OJM stands thereby in the best tradition of Italian garage rock bands. In the past, two of the members had already played together with the mystikal Paul Chain, what makes this interview just more interesting for me (and maybe for you, too!). Thanks to Romy of EvilBitch666, who made this interview possible!
Your newest and third release "The Light Album" is a great surprise for me. Instead of heavy 70's influenced fuzz rock, the album is deeply rooted in 60's garage rock, but you still own this magic heaviness. To be honest, I like "The Light Album" much more than the forerunner "Heavy". The new album owns a very explosive and refreshing vibe, comparable with a rebirth of OJM. Have you been sick and tired of the old path or what was the reason for this musical change?
OJM's stylistic change has been completely natural, spontaneous and heart-inspired. Infact we have never sweard faithfulness to one genre only. The "Heavy"'s sound was influenced by our old productor, Paul Chain. Actually ourattitude is playing music and have fun, so we added to stoner energy the rock 'n' roll power!!! "The light album" is not the rebirth of OJM... only a shoot of what we are now... Tomorrow never knows!!!
There are a lot of high quality cuts to find on the new one, and tracks like "Break It All" or "My Enemy", just to pick out two, are simply overwhelming with all its energy and authentic drive. It's not easy to set new accents in a genre like 60's garage rock, but -hey- you've made it! Are you aware of this fact ;-)?
It's hard nowadays to create a new sound in this genre; we like our last record's ("The light album") sound so much and it's so nice to find appreciations, not only from our fans but even from foreign press. We think that everyone who listen to us can recognize us by the attitude when we play...
What are your favourite 60's groups, and when did you start listening to '60's stuff?
Our musical influences are most of all Stooges, MC5, Grand Funk Railroad, the Nuggets sounds, The Mummies, without forgetting The Beatles, Rolling Stones and The Who. But we have to mention also The Doors (David is the biggest fan of Jim Morrison) and the earliest Pink Floyd with Syd Barret, from whom we have taken inspiration for some psychedelic riffs.
The last track "Desert" reminds me to the Cramps. Do you feel influenced by this awesome group?
Truly speaking we got inspired by The Doors... The song is born from an alcoholic jam....
Ok, imagine you've got a time machine and you're ransported back to the '60's. What would you do with the knowledge you've gained in this decade and what would your activities be?
Who really knows? Probably we spent our time to play music, to see our favourite bands lives, to drink everything, to raise skirts and.....! Our influences would be surely different. We try to do our best as we are doing now to spread our happiness and fun message.
"The Light Album" will be released by the new and hopeful Italian label Go Down Records, where also Alix and Small Jackets have released their excellent albums. Why have you chosen Go Down, and what about Beard of Stars, where "Heavy" has been released? Didn't they show any interest in your new material
We choose it because we founded it personally together with our manager, Leo. We were not satisfied with some Italian underground labels low professionality. Beard of Stars was interested in our stuff but didn't want to promote it as much as our actual label does. However we are still in contact with B.O.S.: infact, in January they are issuing the "The light album" vinyl edition.
What's the difference between the labels?
Go Down Records is a warm family. Leo and all the people, who work on it know us from longer, and our aims was the same. The biggest difference between B.O.S. and Go Down Records is that this last one's main purpose is to help us getting a larger audience throught promotion and concerts. B.O.S. instead is more interested in underground target.
You've recorded the album in your own studio 'Inside Out'. I can imagine that it's a very small location with a lots of analogue equipment and an excellent vintage equipment. Please, describe us this place and have any other bands a chance to record their material at 'Inside Out'?
Yes, it's true. Our recording studio is very small! It's equipped just like a seventies studio. The strange fact is that it's located inside the old hay-loft of our singer David Martin! Some of the bands which recorded by us are: Lord Bishop, Thumb, Paul Chain, With Love, John Woo, Figurantes, Fuzzy Wuzz and many others. We've recorded on reel using technical solutions used in '60 study, for example crossing microphones at 90 to impress the particular ambient sounds of drum.
During the last years you've sent me a lot of tour dates, so it's crystal clear that OJM is a band who loves to perform live. And the promo info of Evil Bitch 666 (thanks, Romy!) says that you've been played more than 200 live shows with bands like Motorpsycho, Fleshtones or Nebula. Had you ever had the chance to play outside of Italy, and with which bands would like to share the stage?
We had the pleasure to open live shows of band that we respect and we love so much. Playing live concerts is an experience that we need and to break it all....(ahahaah). In springtime we will tour around Europe, instead in December we will be on tour in the U.K. with Gorilla. We feel always good dividing the stage with any band.
During the last decade, the Italian heavy underground had produced some superior bands like Ufomammut, Alix, OJM, Vortice Cremisi, T.H.U.M.B., E.X.P. or That's All Folks!, just to name a few. Not to forget Mr. Paul Chain who is around since the late 70's. Is there a good relationship between the bands/musicians, and can you recommend some new hot groups to the listener?
Between the bands you mentioned and OJM there is friendship and respect. We divided the stage many times with Ufomammut, Alix (new album from Go Down Records) T.H.U.M.B., E.X.P. or That's All Folks!. Some of our favourite bands are Small Jackets, the best rock'n' roll band in Italy and Mastica.
Well, drummer Max Ear and bassist Majomat Bordin had toured with Paul Chain through Italy, and both have been featured on some of his albums like "Park Of Reason" or the "Container" recordings. Not to forget that he had produced your last album "Heavy". When did you met Paul Chain, and will you continue this cooperation in the future? Have you planned further projects?
We met him in Rimini when we played there supporting the Fleshtones. He liked our show and from that moment we became friends and then it started our collaboration. We also had a 29 dates tour in Italy between 2002/2003.... whatever we are still in touch with him...
At least, I like to ask you about the future plans of! What going on in the OJM camp during the next months?
The future plans........we want you to know that our line-up has changed: since 8 months, Alex Germany took the place of our last guitarist Matt and Andrew Pozzi substitutes Frank at the bass. Only two "old" OJM members survived: me (Max Ear) and the singer, David Martin. On stage the new line-up is a bomb, now we know what we want and we wanna play live shows all around the world!!!!!! In December: U.K. tour with Gorilla; in springtime: European tour; in summer we plan to work hard in studio in order to compose new songs. And we are proud to keep high OJM's flag!
Thanks for everything! Hope you will release more exciting stuff in the future, and good luck for you and the band!
Rock 'n' fucking roll!!! Come to see us on tour..... you'll never forget us.... It's not a threat!!!!
(KK)