WALL OF SLEEP - August 2003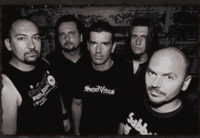 WALL OF SLEEP is the next Hungarian band in this update, and like the other here featured band Stereochrist, here are other ex-members of Mood in the line-up. The first life-sign of WALL OF SLEEP is the "Overlook The All" MCD on PsycheDOOMelic Records, which is an inspiring crossover between traditional heavy sounds like Count Raven or mid-90's Revelation, and COC or Down. Nothing is totally new here, but the heart beats at the right place, and this band has enough routine and virtuosity, to stand out of the mass of Sabbath/Skynyrd-influenced bands. I talked with singer Holdampf Gábor about the latest band's news, living in Hungary and other things, which can make life more valueable.
Hello Gábor! Welcome back to the scene with WALL OF SLEEP, one of the follow-up bands after the end of Mood. I've aked this question to Hegyi Kolos (Stereochrist), too, and so I'm interested in your opinion. What was the reason to finish Mood?
MOOD was founded by Sanyi, (Füleki) and me in '93, to play the music we liked very much, slow, heavy powerful music influenced by SABBATH and other, orthodox bands like LIKE SAINT VITUS, THE OBSESSED, TROUBLE etc. etc....after 8 years we felt that the situation within the band has been changed, concerning the aims of the band, the exsisting and the function of the band was not that we would have liked to be. Our points were very different from the other guys of view. These were musical, and mainly personal problems, between two of the other half of the band......and we didn't want to force to keep this non-exsisting unity alive...
When have you formed WALL OF SLEEP? Was it directly after the end of Mood?
Yes, it was directly after the end of MOOD.We started working right after the last show in December 2001. In January of 2002 we had got three new songs.
I guess, the name is connected with the Sabbath song "Behind The Wall Of Sleep", isn't it?
Yes, of course. I think, this is a name you know what kind of music we do... it's a revealing name haha...
I think, there isn't that great musical difference between some of Mood's material and WALL OF SLEEP. What's your point of view about it? Can you agree?
You are right, but it goes without saying ...in MOOD Sanyi was the main songwriter and in WALL OF SLEEP the situation is the same. I think, WOS is a little bit slower, harder, doomier than MOOD was...WOS is much more homogeneous and we are very happy with it...
The first life-sign is the "Overlook The All" MCD on PsycheDOOMelic records. Why haven't you started with a full-length and are all included four tracks brandnew or remnants from the Mood-period?
I don't know...it just happened...we wanted to release some music, as soon as possible. Mark offered a deal, and we said ok, let's do it! We didn't use anything from the MOOD era...we didn't want to use anything from the unreleased new MOOD songs , because it's new band.
As far as I've noticed, you've only received good reviews for the MCD, and it was quickly sold-out. Are you satisfied with the response?
We are glad, that things are going well, but without Mark's great promotion it couldn't happen. He is doing a perfect job. We are working on new songs right now, the full-length is 90% done and we can't wait to release it...we will start recording in next month.
With "The Wizard", you've included a strong cover-version of the Sabbath-classic. What was the band's intention for this choice, apart of paying tribute to the band, with whom (nearly) everything started?
We like it a lot to play cover-songs. That's why we decide to record this song. "Overlook The All" was an EP, and we thought it was something special, to put a classic Sabbath-song on it. We like the song, and it was exciting for us to play it.
For me, there's a positive vibe in your sound, though you've incorporated some dark and heavy riffs. Is there any kind of special message, you would like to bring to the listener?
I'm glad, that you feel this way...that's it...we've got real heavy riffs, slow themes, but it isn't inspired by hate or aggression or anything like that....I like to write lyrics, because it's a possibility to let out every feeling I can't or don't want to let out in another "normal" way. It's a valve for me...I can write a couple of lyrics and I'm ok again...for a while...haha.I haven't got any special message, I feel lucky, that I've got this way to unleash everything from the inside with the help of this music by this band. It helps a lot, brings calm for me.
How did you get into the world of Doom Metal? What were the first albums, you've listened to, and what makes this kind of music so special for you?
I met the music of Sabbath, Beatles, Pink Floyd and things like that at the age of 6-7...I've an older sister, you know...I think, this determined my musical taste. As a teenager, I listened to heavier music like Judas Priest, Maiden, and Thrash Metal, too, and after I heard the "Born Too Late" album from SAINT VITUS...and I started to get all of the music like that...slow and real heavy stuff. There are just deep slow rivers to drift in.
I think, a lot has happened around true heavy Doom music in the last years. There are a lot of new underground labels, more webzines than ever before and an amount of interesting good bands, though there are of course a lot of average bands, but that's in every scene/community. What's your personal opinion about the current situation?
Huh, I don't know...I think more fanzines, and bands can keep the whole scene alive. More bands mean more music - more fanzines mean more forum for the bands, and that's good.
What are your other interests, apart of playing heavy music?
I have got three kids... that's enough, isn't it? Haha... and I listen a lot to music.
You're living in Hungary. How is it to live there (expensive/cheap, easy to get a job, etc.)?
Hungary is a beautiful country, but living here is very expensive for us...by the Austrian border, where I live, it's a little bit easier to get a job, but east from Budapest the rate of unemployment is very high. The people, who live there are in a hopeless position, in a critical situation, unfortunately.
Mark of Psychedelic/PsycheDOOMelic told me, that you have plans for a short European tour in October, I think. Please, give us some informations about it and the other plans of WALL OF SLEEP. When can the interested listener expect your full-length?
We make a short tour in October through Germany, Belgium and the Netherlands. We will do 5 gigs.We can't wait for them! In September, we will start recording a full-length album, titled "Slow But Not Dead". It will be released in February 2004. We would like to organize the next FLAG OF DOOM Festival (VOL1 was headlined by SPIRIT CARAVAN, VOL 2 by CROWBAR). It seems, as PENANCE, WHILE HEAVEN WEPT ORODRUIN will come to Hungary, shortly before the DOOM SHALL RISE FESTIVAL (APRIL 2004) and the FLAG OF DOOM VOL3. We're very glad, that we have been invited and we'll play on that festival in Germany. Once again, after DSR, we'll do a short tour.
That's all, man! I wish you and the other guys the very best and good luck for the future. Any additional words at least?
Thanks a lot - see you in October!
(KK)