August 2003 - STEREOCHRIST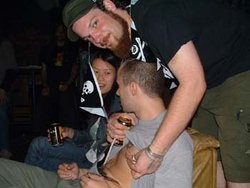 Hungary got a small, but fine scene of heavy bands, who are influenced by doom-infected sounds. Mood was the premier band of this active underground, but they broke up. Fortunately, some of the former members decided to start a new band, which released one good promo CD-R under the monicker Super Natural (now STEREOCHRIST). Their music is still influenced from Mood, but with a stronger blues-based sound, closer to 90's Trouble or Alice In Chains. But no matter what kind of memories it evokes, it's just good and emotional heavy music with a lot of a potential. So it was about time, to take a look into the world of STEREOCHRIST, and what will happen 'til the end of this year. Peter and Kolos were so kind to answer my questions, so it's up to you to read our virtual talk.
Why have you chosen to change the name Super Natural into STEREOCHRIST? What's the idea behind the new name?
Peter: Months after we took the name Supernatural, we began to realize just how many bands are out there with the same name. Then just a month ago Scott, our label chief warned us, that an Amerivan band named Supernatural has just released their album, and that us having the same name would cause troubles in releasing our LP in certain states. So we thought it might be better changing the name before the record comes out. The phrase Stereochrist is just one of those things, that popped out of my brain and we liked the sound of it. No religious implications whatsoever. We simply took an iconic figure, who had so much impact on our culture and imagined, if he lived in these loudly media-oriented days, he would need a giant ghetto-blaster to get his message through.
What do you think about the Christian religion? I ask for it, because of the new name STEREOCHRIST and the lyrics of "Christ Was an Angry Man".
Peter: I don't particularly prefer any organized religion, although I accept that it might work on certain levels. "Christ Was an Angry Man" is about how I imagine the man himself stripped of all the idealized beliefs and in what ways ideological obsession might be dangerous. The point is that there will always be people, who think they know things better and who think they are morally so superior to judge the acts and thinking of others.
Apart of the name change, are you still playing in the same line-up as you did on the promo?
Kolos: No, just the four of us. Fung András, who also played guitars on the promo, left the band a year ago, so now it's one guitar only. The album however has the twin guitars and our live sound is pretty much intense.
Some of you played formerly in Hungarian doom outfit Mood. What was the reason to break-up the band and are you still in contact with the old members?
Kolos: The main reason was the way the band was functioning. We wanted to play live as much as we could, while Gábor and Sanyi (currently in Wall Of Sleep) felt we should limit our gigs to the minimum. We thought, that a band should function in another way. Plus towards the end, we haven't been on the same track musically either. We don't really keep in touch with them, everyone is doing his job, that's all.
Before the name change, you've signed with Arctic Music Group for the first full-length album. How did this label contract come together and where there any other labels interested? Is this contract only about one album?
Kolos: 3-4 months after the band was formed we recorded a 4-track promo to test the songs, but as the record worked out pretty good, we started to send CD's around to fanzines and labels. Arctic Music were the first one to reply and they were seriously interested in what we do. Phil Fasciana, who is one of the owners in Arctic - and also the guitarist of Malevolent Creation - particularly liked the stuff. The conditions were fine so we signed the deal. So far we had a fair relationship, that we hope to carry on. This is an one album deal with an option.
How far is the band with the recording process? Do you re-record the tracks of the promo and how much songs will be included on the album? Please, tell us more about it!
Kolos: We are currently in the middle of our work. All being well we will be finished by the end of August and an October release seems reasonable. The title will be "Dead River Blues", and will include 10 songs, the 4 demo tracks re-recorded as well. We also made a cover of Black Sabbath's "Symptom of the Universe"-that one will be released later as a bonus. The LP will be also released on vinyl, which is a great blessing for me dying for those scratchy old records.
That sounds great! Have you any plans to promote "Dead River Blues" ? Can we expect an European tour? Please, tell us about your plans!
Kolos: We'd like to play Europe as much as we can. Right now we have one gig nailed in Reutlingen (Ger) with Mirror Of Deception. The date is October, 11th. Between October 21st-26th, we'll be playing in Finland. The gigs are organized by our Finnish distributor, Firebox Records. They licensed our album, and we have a great relationship with them. We are currently negotiating with more booking agencies, and hope to get even more places as this music is best when played live.
I've noticed, that you've got a completely new designed website, after you've changed the band's name.Have you a webmaster or is anyone of STEREOCHRIST working as a webdesigner?
Kolos: Yeah, we successfully secured the domain www.stereochrist.com . Our vocalist, Peter did the design - and the cover of the promo as well. As the album comes out, we'll put up a richer site, but until then we welcome any comments.
You're working for the Hungarian Doom/"Stoner" webzine Thundergroove, too. When have you started it, and what was the reason for it?
Kolos: Karesz of Thundergroove asked as to contribute. He's a great friend of us, we live in the same city and we owe him pretty much for the record deal, as he advised us to send out the promo to Arctic. Currently we have not much time to write reviews as we are working "full time" on STEREOCHRIST.
What do you think in general about the community of Doom/"Stoner" webzines? Is there a community, and what's your point of view about it? Does it help to spread the word about heavy music?
Kolos: I keep reading these fanzines quite frequently and realized just how strong the cohesion is within this particular genre. This relates to fanzines and bands as well. As the musical style is not really popular these days, we have to appreciate all bands playing doom/stoner music.
Apart of the music, what is important for you in life? What kind of values do you care about?
Kolos: I don't think, we are different from any other people in that respect. I'd rather speak about what makes us sick. What particularly bothers me is the world getting more and more uniform the national characteristics slowly disappearing. It's almost become the all the same what part of Europe are you in.This is even more present here in Hungary as the changes took place over the course of a decade. I ain't craving for the communist-era, but it seems that the way we force ourselves to join the EU just ruins some things we should retain. Another concern is the weakening of tolerance all over the world. Whenever the US don't like a group of people, just bomb them and assimilate into the new global world order. They're acting like Borgs in StarTrek.
Thanks a lot for your interest in doing an interview with Cosmic Lava! Any last additional words for the reader?
Thanks a lot and hope to meet everyone in the concerts and you will like the album.
(KK)